Thembi Seete biography, age, profile, husband, son, presenter
Thembi Seete (born on 25 March 1977 in Soweto) is a South African presenter, actor, and singer. The famous singer is known far back from when she was a member of a group, though the group is split.
She later became a solo singer as her voice gave her a stand in the entertainment industry. She has grown her music career as many love to hear her sing.
After gaining ground in music, she decided to try out another profession. She tried to be an actress and later became a radio presenter. Yes! Thembi is multi-talented, making her gain a presence in the media and expanding her brand.
Do you think that's all? Well no. Thembi also would host shows on television.
You may also like to read: Mohale Motaung biography, age, profile, partner & parents
Profile
Name
Thembi Seete
Age
43 years old
Gender
Female
Date of birth
25 March 1977
Place of birth
Soweto, Gauteng
Birthday
March 25th
Profession
Presenter, actor, and singer
Partner(s)
Bobo "Bo" Seritsane (separated)
Collen Mashawana (rumored)
Son
Dakalo
Age
The beauty and brain has gained admiration from many, she can enter into many profession and do a perfect job. Her date of birth is on 25 March 1977 and the place of birth is in Soweto, Gauteng, South Africa. Thembi Seete is 43 years old.
Without being told, many would guess she is 23, thanks to her body, she is still queening at forty-three.
You may also like to read: Somizi Releases Sneaker Line #BathuXSomizi: Launched Today!
Husband
Thembi Seete was engaged to Bobo "Bo" Seritsane. After ten years of dating, they decided to take their relationship to the next level. They were madly in love which led to a proposal from her then-boyfriend, Bobo, in 2012. Thembi said "Yes!"
In a short while, the news spread as wildfire and fans waited in anticipation for their wedding. The following news was shocking, they ended their relationship. People were anxious to know why the couple who look good together did not get married.
She gave reasons why they did not exchange marital vows months after Bobo's proposal. Thembi says that "she had delayed the marriage in her interest".
Four (4) years went by Thembi left a post on being single. People fell deeply into the surprise pit. Fans and followers who thought that she later got married were surprised upon seeing the post.
Boyfriend
Speculations had it that Thembi is dating Collen Mashawana, a businessman. Spreading rumors covered that the two (2) were in a romantic relationship for a long time now.
To fuel the burning fire, a picture surfaced online proving that the rumors could be true. Like the court of law, the person with the evidence wins. The piece of evidence made people believe that they were in a romantic relationship and that Collen is her baby daddy.
The businessperson has been married once to a television presenter, Lerato "Zah" Moloi. Though they have ended the marriage following reasons are best known to them.
Music
She was part of a popular famous Kwaito group, Boom Shaka, which was on everyone's lips for six years (1994-2000). She was active in the group until it split making her start a solo career.
Well, people who have many talents can try out many professions. This applied to Thembi, she decided to try out acting. She then was cast in Hijack Stories, playing a minor role in the film.
The acting was her talent, after all, she landed another role in Yizo Yizo, a popular drama series in Mzansi which aired on SABC1. Landing the role on the show opened other doors, she was opportune to sing the Yizo Yizo 2 soundtrack, Sure Ntombazana.
More acting opportunities came knocking, Thembi is now a popular personality. She was later cast on Gaz'lam for four years (2000-2004). She portrayed as Lerato on the drama series aired on SABC1 appearing on the season one and two.
She then made a guest appearance at the beginning of the second season of Ghosts of the Pasts.
Thembi was cast in an African movie titled Crossing the Line, playing the role of Pumla.
Another role followed in acting, on the SABC1 drama series, Mtunzini.com, she pulled the role of Lily appearing in episode three (3).
In the same year, she appeared again on a new series on television playing a lead role in Zone 14, an SABC1 soccer drama series. Appearing in four (4) seasons on the show, Thembi played the role of Nina Moloi.
In 2015, she landed the role of Bongi on one of the most viewed series on e.tv Rhythm City. You see, acting is her calling!
Presenter
She later picked up a profession in presenting after landing a how on Jika Majika. The dance show aired on SABC1, she maintained her presenting role on the show for ten (10) seasons.
A "better opportunity" followed as she became the host of the game show Nguwe Na?. Job as a host came knocking following her impressive performance on the job.
In November 2013, she became a presenter for the 6th annual Crown Gospel Music Awards. The award show aired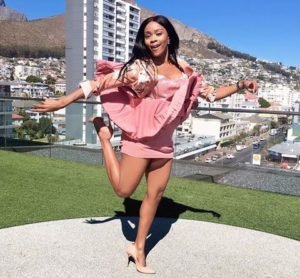 You may like to watch: Scandal 10 February 2021 Full Episode On Musiclove